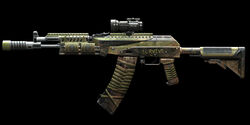 "

Swift and deadly as a samurai, this camouflaged rifle will take out your enemies before they even know they've been hit.

"



 

— Weapon Description 
Overview
Edit
The AK-107 Death Valley is a skinned variant of the AK-107 Wolf. It was originally released in the Death Valley Box in the Capsule Shop, along with the SPAS-15 Death Valley and Mad Galil Death Valley. Statistically and performance-wise, it is identical to the Wolf (with +2 Bullets per magazine).
See AK-107 Wolf
The exterior of the gun has a rusted/dirtied-metal appearance, hinting at it being used in battle a lot. There is rope wrapped around the magazine and grip, with the word "SURVIVE" engraved just above the trigger.
Modifications
Edit
Mount
Recommended Build(s)
Edit
Dot (2x HS)
Even though the ACOG has a higher magnification, it takes up a lot of the screen when zoomed in. The Dot (2x HS) sight provides enough magnification without taking much of your screen up
Always zoom in with this gun, it makes it way more accurate and stable
Variants
Edit

Ad blocker interference detected!
Wikia is a free-to-use site that makes money from advertising. We have a modified experience for viewers using ad blockers

Wikia is not accessible if you've made further modifications. Remove the custom ad blocker rule(s) and the page will load as expected.