Ad blocker interference detected!
Wikia is a free-to-use site that makes money from advertising. We have a modified experience for viewers using ad blockers

Wikia is not accessible if you've made further modifications. Remove the custom ad blocker rule(s) and the page will load as expected.
This article is a stub. You can help Alliance of Valiant Arms Wiki by expanding it.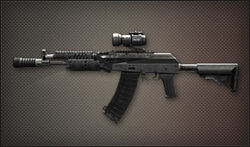 "

An upgraded version of the AK-47, it is a unique assault rifle that houses two separate pistons - one for normal operation and the other for reducing recoil - inside it's gas chamber. Improved stability when firing translates into more accuracy

"



 

— Weapon Description 
The AK-107bis is an Assault Rifle first introduced during the 10-20-11 Content Update. It was re-released in the 09-03-14 Content Update.
The AK-107bis is an "aiming weapon" meaning that it has great accuracy when aimed/scoped. When you fire without scoping, it has little recoil for the first 2 - 4 rounds but then blooms quickly. While aiming with the optic, the gun has little to no recoil and even so while moving, making it a highly accurate rifle and a run-and-gun weapon, which is the primary strength of this gun.
The AK-107bis has 35 damage, which means the player needs to shoot the head twice or shoot the body 5 or even more times for a kill, and an average 55 ROF, meaning it suffers in close range combat (C.Q.C.) especially with the atrocious bloom without scoping in. However, the stability makes up for the low damage both in scope, where it is a no recoil lazer, and in shooting from the hip, where its recoil can be mitigated by quickly bursting the weapon. The high 65 stability makes mid/long range suppression possible but only while you aim. Having to constantly aim to ensure shots makes it a poor close range weapon.
It has an average 45 range, which could be increased to 51 with an ACOG. The ACOG is not always recommended for this gun due to the lack of peripheral vision. The Red Dot offers more peripheral vision with +3 to range. The ACOG is generally suited to shooting at a distance, as it is easier to keep on target. Generally speaking, this rifle is great for mid-long range, but not C.Q.C combat, but users may take advantage of it's stability to acquire run-and-gun head shots. Users should never be on the front lines of battle unless necessary and are better off playing a supportive role.
Modifications
Edit
The weapon only has optical mods. The default optic is 1.5x.
ACOG - Long range mod. Very hard to use in close range. Not recommended unless weapon is being used for long range.
Red Dot - Mid range mod. Depending on personal preferences, it can be used as a replacement of the default optic. Recommended if the user prefers playing at medium ranges.
No mount - A simple zoom in. Very universal and easiest for beginners to use.
Recommended Builds
Edit
Close Range: No mount. The default dot sight is sufficient.
Mid Range/Close Range: Default dot sight or Red Dot sight.
Long Range: ACOG is preferable for longer ranges.
Firing at a distant target with the optic has great accuracy while tapping slowly, but "blooms" while tapping rapidly, which is normal.  With short bursts of 2 - 4 rounds, it has a better shot grouping than tapping rapidly, and also does more damage in the time span due to more rounds fired. The reason should be the low accuracy statistic making the it easier to bloom, and the high stability making the bursting/full-auto more controllable.
Close range - Aim for head. The weapon's move shot is excellent so you can strafe while shooting.
Mid range - Aim for head. You can stand or walk.
Long range - Aim for head. Crouch or stand.
Notable Comparisons
Edit
M4A1 MK.3
Edit
When scoped AK-107bis gives same damage as M4A1 MK.3 at range up to 35m. After that AK-107bis shows its higher accuracy, stability and range. Without scope M4A1 MK.3 is better at every range. Its higher DPS and mobility makes it an universal gun where AK-107bis is an long-range specialized rifle. M4A1 feels like a safe alternative to AK-107bis.
The AK200 not only is somewhat similar to the AK-107 in stats, it is also an ADS weapon. They both suffer in close range, have similar damage and have similar stability. Though the AK200 has slower ROF, the AK200 provides more penetration and power (if modded accordingly).
The gun is actually modelled after an airsoft rifle(Much like the M82 ingame)the UFC X-47.
Also note how the RIS mount obscures the ejection port which would make ejecting brass a problem,yet it still works ingame.
The AK-107bis is one of the few weapons with a fanciful animation (magazine flip & catch), the others being the Beretta Barbatos (Left Beretta spinning during reload) & Dual TMP (Both TMPs spinning during draw) & the Holy Mackerel {the draw is by filping 

Holy Mackerel and by catching it by it's tail}
GIF Gallery
Edit