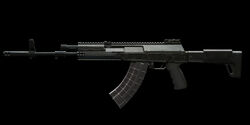 "

The Kalashnikov AK-12 (formerly АK-200) is the newest derivative of the Soviet/Russian AK-47 series of assault rifles and was proposed for possible general issue to the Russian Army.In late September 2013, the AK-12 was passed over by the Russian military.

"



 

— Weapon Description 
This gun is the new but more stable version of the Sa58 Para. Though the Para has a higher ROF, the AK-12 features an easy-to-tap type of weapon, perfect for beginners who want to start using Sa58 Para. Also the accuracy being 57 is a huge lie, possibly being as accurate as Rx4-Storm. In summary, the AK-12 is a more stable version of the Sa58 Para in trade for a low ROF.
Modifications
Edit
Heavy Barrel (+3.5 Range, +1.9 Accuracy, +1 Auto ACC, -2.1 Control ,-0.57 ROF)
Long Range Barrel (+6.2 Range)
Reinforced Barrel (+4 Damage,-0.57 ROF)
Spetsnaz Edition (+0.1 Accuracy, +13 Auto ACC, +1.1 Control ,-3 Mobility)
Precision Trigger (+2.2 Accuracy, +1.2 Auto ACC)
Ergonomic Grip (+1.6 Accuracy, +0.8 Auto ACC)
Shock Absorber (+3.3 Accuracy, +1.8 Auto ACC)
Recoil Control Stock
Recommended Builds
Edit
Long Range Barrel
Ergonomic Grip
Recoil Control Stock
Total:+1 Accuracy, +2 Range(+6 Range)
Variants
Edit
Tap-fire it like you would a Para or M14
Notable Comparisons
Edit
The in game rifle is modeled after the 7.62x39mm version of the AK-12, this being based on the rifle's ingame stats and the curvature of the magazine.
The AK-12 is the newest iteration in the Kalashnikov family of rifles, although it has been officially stated that the rifle will not be replacing (or even suplementing) the AK-74M in the Russian military.
The AK-12 is a modular weapon, with 8 diffrent types of rifle in its platform.The base rifle is chambered in 5.45x39mm with a 41.5cm barrel, this variant also comes in 7.62x39mm (as seen in game) and 5.56x45mm NATO, there is also a carbine version of the base rifle (AK-12U) with a shorter barrel and combined FSGB (Front Sight & Gas Block).There is also the AKU-12 compact carbine(similar to the AKs-74u), RPK-12 (LMG variant), PPK-12 (submachine gun) and the SVK-12 (DMR chambered in 7.62x51mm NATO)
Unlike the in game rifle, the AK-12 in real life nearly has no recoil.
Ad blocker interference detected!
Wikia is a free-to-use site that makes money from advertising. We have a modified experience for viewers using ad blockers

Wikia is not accessible if you've made further modifications. Remove the custom ad blocker rule(s) and the page will load as expected.