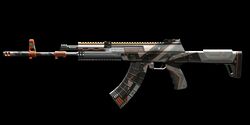 "

This special-edition AK-12 is the winning Rifleman weapon from the third Weapon Reskin Contest. Designed by Anapshock.

"



 

— Weapon Description 
Overview
Edit
The AK-12 CXT is a community-made skinned variant of the AK-12. It was originally released exclusively Aeria's webmall, after player "Anapshock." submitted it to a contest and won. Anapshock. has also created other skins, including the FR-F2 Legend and SCAR-L Trooper. Statistically and performance-wise, it is identical to the AK-12 (with +2 Bullets per magazine).
See AK-12
The exterior has a white base coat, with black and red accents throughout the gun which creates a simplistic, yet beautiful design. The color schemeis similar to the FN Prototype.
Modifications
Edit
Heavy Barrel (+3.5 Range, +1.9 Accuracy, +1 Auto ACC, -2.1 Control ,-0.57 ROF)
Long Range Barrel (+6.2 Range)
Reinforced Barrel (+4 Damage,-0.57 ROF)
Spetsnaz Edition (+0.1 Accuracy, +13 Auto ACC, +1.1 Control ,-3 Mobility)
Precision Trigger (+2.2 Accuracy, +1.2 Auto ACC)
Ergonomic Grip (+1.6 Accuracy, +0.8 Auto ACC)
Shock Absorber (+3.3 Accuracy, +1.8 Auto ACC)
Recoil Control Stock
Recommended Build(s)
Edit
Variants
Edit

Ad blocker interference detected!
Wikia is a free-to-use site that makes money from advertising. We have a modified experience for viewers using ad blockers

Wikia is not accessible if you've made further modifications. Remove the custom ad blocker rule(s) and the page will load as expected.