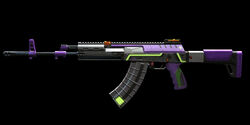 Overview
Edit
The AK-12 Unit 01 is a skinned variant of the AK-12. It was originally released as a possible prize from Season 5 of Mega Capsules. Statistically and performance-wise, it is identical to the AK-12 (with +2 bullets per magazine).
See AK-12
The exterior has a futuristic/robotic appearance to it. It has a main grey coat with purple and yellow accents. On the back of the tactical rail, there is a glowing triangle.
Modifications
Edit
Heavy Barrel (+3.5 Range, +1.9 Accuracy, +1 Auto ACC, -2.1 Control ,-0.57 ROF)
Long Range Barrel (+6.2 Range)
Reinforced Barrel (+4 Damage,-0.57 ROF)
Spetsnaz Edition (+0.1 Accuracy, +13 Auto ACC, +1.1 Control ,-3 Mobility)
Precision Trigger (+2.2 Accuracy, +1.2 Auto ACC)
Ergonomic Grip (+1.6 Accuracy, +0.8 Auto ACC)
Shock Absorber (+3.3 Accuracy, +1.8 Auto ACC)
Recoil Control Stock
Recommended Build(s)
Edit
Variants
Edit
"Unit 01" is an Evangelion from the Japanese anime series, Evangelion. It shares it's name, as well as it's color scheme with the gun.

Ad blocker interference detected!
Wikia is a free-to-use site that makes money from advertising. We have a modified experience for viewers using ad blockers

Wikia is not accessible if you've made further modifications. Remove the custom ad blocker rule(s) and the page will load as expected.