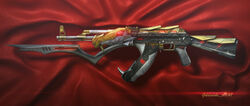 "

Have you ever wanted your own pet snake? How about one that was gold and had a giant bayonet protruding from its mouth? With the AK47, you get the next best thing: a bayonet-fitted gun complete with big, pointy teeth that'll give your enemies ophidiophobia! Snakes! Why does it have to be snakes?!

"



 

— Weapon Description 
The AK-47 Gold Snake is a skinned variant of the AK-47 Lion. Although it's appearance looks as if it would be the same as the Black Snake, it actually shares all of it's stats with the Lion and performs the exact same, with +2 Bullets per Magazine. It was released in the Gold Snake Box in the capsule shop along with the DSR-1 Gold Snake and AKS-74U Gold Snake.
It is known as being one of the easiest rifles in the game to master. With up to 48.0 ATK and 82.3 Recoil Control, you can easily melt enemies at any distance.
The bayonet on the gun is purely for aesthetics, and is not usable.
Modifications
Edit
Barrel
Reinforced Barrel (+4.0 Damage, -0.35 AutoFire)
Burst Barrel (-2.5 ACC, -1.5 AutoFire ACC, +0.48 AutoFire)
Recommended Builds
Edit
Mostly personal preference. The majority of players prefer using Reinforced Barrel to get even more damage, some like to use Burst Barrel to get that extra little rate of fire.
From 1m-15m, you can spray with control pretty easily
From 15m-30m, you should 2-3 shot burst
Above 30m+, you should 2 shot burst or tap fire it
Notable Comparisons
Edit
The Gold Snake Weapon Box received a massive amount of purchases, due to players thinking that it was a reskinned Black Snake. People were saddened when they found out that it wasn't.
Some people think it's one of the prettiest skins in the game, while others think it's the ugliest
Ad blocker interference detected!
Wikia is a free-to-use site that makes money from advertising. We have a modified experience for viewers using ad blockers

Wikia is not accessible if you've made further modifications. Remove the custom ad blocker rule(s) and the page will load as expected.