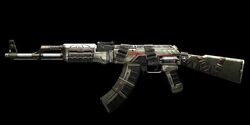 "

[AK-47 Human Fighter] A Fortune Star commemorative customized model based on an AK-47. Some parts have been upgraded for enhanced performance, including a higher-capacity magazine.

"



 

— Weapon Description 
The AK-47 Human Fighter is an upgraded variant of the AK47 MK.4. It was originally released as a possible prize in Season 4 of Fortune Stars. Compared to the MK.4, every single statistic is the same, except the rate of fire which has received a slight buff (9.09 -> 9.35).
Modifications
Edit
None
Variants
Edit
Notable Comparisons
Edit
Ad blocker interference detected!
Wikia is a free-to-use site that makes money from advertising. We have a modified experience for viewers using ad blockers

Wikia is not accessible if you've made further modifications. Remove the custom ad blocker rule(s) and the page will load as expected.