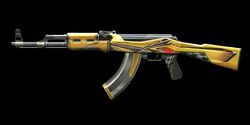 "

[AK-47 Miura] A custom model AK-47 Lion inspired by the yellow model of the renowned italian sports car. It's equipped with a high-capacity magazine.

"



 

— Weapon Description 
Overview
Edit
The AK-47 Miura was modelled around the AK-47 Lion and therefore features exceptionally high damage, range and accuracy, and has a comfortably high stability in comparison to the earlier versions of this weapon. Both accuracy and recoil are maintained noticeably longer while crouching, and zooming in appears to have very little effect on the instability of the weapon – allowing for a larger effective range at the cost of a minor reduction in the rate of fire.
Two and three-shot bursts are recommended for short to medium ranges, while single-shot tapping is preferred for longer ranges approximately 20 meters and above. Despite having the option, full automatic fire is not recommended as the accuracy of the weapon will be seriously affected. The weapon will also become unstable quickly during automatic fire unless several rounds have already recently been shot – the AK-47 Miura will reach its maximum recoil level reasonably quickly.
Due to the weapon's simplistic upward recoil, single-shot tapping can be mastered relatively easily as opposed to using a weapon with a more significant kick like the SA58 Para. The AK-47 Miura's powerful rounds allow it to kill a target at up to 20 meters with a single head-shot. Targets can still be significantly injured up to 30 meters, although their armour will stay intact at this distance. Armour is most noticeably ripped apart below the waist, but damage is severely impaired at this level.
Armour is penetrated considerably at the body; a consistent damage pattern is maintained between 0 and 20 meters, with a single shot able to deal almost half a target's health points and degrading up to 20% of their current armour. Therefore, it's highly recommended to aim around the neck area – bullets will deal significant damage around the body and head, and stray shots that come in contact with the target's arms will rip apart any remaining armour, securing a quick kill at close-quarters.
Modifications
Edit

Increases power by reinforcing rifling but decreases recoil control and spray capability.
(+4 Damage,-0.35 ROF)


Increases rate of fire but decreases accuracy.
(-2.5 Accuracy, -1.5 Auto ACC, +0.48 Auto Fire)
Recommended Builds
Edit
Head-shot Build
Edit
Reinforced Barrel (+3 damage, –2 rate of fire)
Variants
Edit
| Damage | Range | Accuracy | Stability | Mobility | Fire Rate | Ammo |
| --- | --- | --- | --- | --- | --- | --- |
| 44 (+3) | 57 | 76 | 45 | 48 | 43 (–2) | 30 |
This set-up will increase the damage of the weapon while lowering the rate of fire slightly. While this will have very little impact on the ability to tap smoothly, it will reduce your spraying effectiveness at close-range. It will increase the maximum recoil slightly when continuously tapping, meaning you'll be actively moving the cross-hair downwards for longer during fire-fights. This barrel is only recommended for people actively aiming for the neck/head area in order to accumulate damage quickly.
Close-quarters Build
Edit
Burst Barrel (–1 accuracy, +2 rate of fire)
| Damage | Range | Accuracy | Stability | Mobility | Fire Rate | Ammo |
| --- | --- | --- | --- | --- | --- | --- |
| 41 | 57 | 75 (–1) | 45 | 48 | 47 (+2) | 30 |
Using this barrel will yield a very noticeable drop in accuracy, so it's recommended to make use of the increased fire rate by only engaging with targets at close to medium ranges, and always at least two or three-shot bursting. This barrel makes fully automatic fire viable at distances up to 10 metres, as the maximum recoil level is achieved extremely quickly. If you must engage a target at a distance greater than 20 metres, you're strongly advised to crouch in order to minimize the accuracy drop.
Notable Comparisons
Edit
SA58 Para
Edit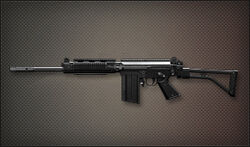 | Damage | Range | Accuracy | Stability | Mobility | Fire Rate | Ammo |
| --- | --- | --- | --- | --- | --- | --- |
| 48 | 48 | 58 | 27 | 57 | 65 | 25 |
The
SA58 Para
has a very similar recoil pattern with the exception of extra upwards kick with every shot, making it relatively harder to control than the
AK-47 Miura
. However, both guns feature high damage, range and accuracy, and have the ability to kill a target with a single head-shot at medium range. While the SA58 Para has better overall armour penetration, the
AK-47 Miura
excels in body shot armour penetration at distances up to 20 meters. The play-style of these two weapons are exceptionally similar, requiring the user to constantly break-shot and tap.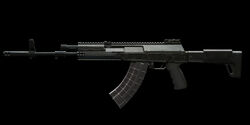 | Damage | Range | Accuracy | Stability | Mobility | Fire Rate | Ammo |
| --- | --- | --- | --- | --- | --- | --- |
| 47 | 50 | 57 | 25 | 45 | 40 | 30 |
The
AK-12
, being part of the
AK series
, unsurprisingly shows a number of similar traits to the
AK-47 Miura
. Again, we see high damage, range and accuracy being featured, along with a strong ability to penetrate armour and deal significant amounts of damage to the head and body regions at medium range. Although the AK-12's armour penetration is better than the
AK-47 Miura
's, this weapon maintains its head-shot power over a similar range, and will still deal large amounts of damage at long-range considering the target's armour has degraded significantly.
Ad blocker interference detected!
Wikia is a free-to-use site that makes money from advertising. We have a modified experience for viewers using ad blockers

Wikia is not accessible if you've made further modifications. Remove the custom ad blocker rule(s) and the page will load as expected.