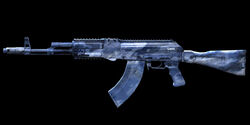 "

A customized version of the AK200 with a special skin.

"



 

— Weapon Description 
The AK200 OMON is a Mega Capsule variant of the AK200.
The AK200 OMON is a skinned variant of the AK200. It was originally released as a possible prize in Season 3 of Mega Capsules. Statistically and performance-wise, it is identical to the AK200 (with +3 Bullets per magazine).
See AK200
Modifications
Edit
Red Dot Sight[x2 HS]
ACOG [x4]
Long Range Barrel MK.II(+5.5 Range)
Burst Barrel(+0.48 RoF, -1.8 Accuracy, -1 Auto Fire ACC)
Reinforced Barrel(+4 Damage, -0.67 RoF)
Recommended Builds
Edit
Notable Comparisons
Edit
The name OMON is a reference to Russia's anti-terrorist force, the OMONs, also known as Otryad Mobilniy Osobovo Naznacheniya. The OMON is also known as the Black Berets and the Mafia Killers. 
Other weapons in the "OMON" series include the Veresk OMON and SV98 OMON 
Ad blocker interference detected!
Wikia is a free-to-use site that makes money from advertising. We have a modified experience for viewers using ad blockers

Wikia is not accessible if you've made further modifications. Remove the custom ad blocker rule(s) and the page will load as expected.