This article is brand new! As such, some important information is currently missing.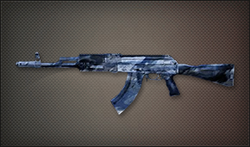 "

Unknown.

"



 

— Weapon Description 
The AK200 OMON is a Mega Capsule variant of the AK200.
The AK200 is a gun that is inaccurate, has big bloom, and lacks in DPS, but when scoped in, the AK200 is laser accurate, has little-no bloom, and can manage to help score headshot marksmanship in CQC. Overall, this gun acts as a buffed version of the AK-107 BIS, featuring better hip-fire and damage in trade of ROF and mobility.
Modifications
Edit
Red Dot Sight[x2 HS]
ACOG [x4]
Long Range Barrel MK.II(+5.5 Range)
Burst Barrel(+0.48 RoF, -1.8 Accuracy, -1 Auto Fire ACC)
Reinforced Barrel(+4 Damage, -0.67 RoF)
Recommended Builds
Edit
Notable Comparisons
Edit
The name OMON is a reference to Russia's anti-terrorist force, the OMONs, also known as Otryad Mobilniy Osobovo Naznacheniya. The OMON is also known as the Black Berets and the Mafia Killers. 
Ad blocker interference detected!
Wikia is a free-to-use site that makes money from advertising. We have a modified experience for viewers using ad blockers

Wikia is not accessible if you've made further modifications. Remove the custom ad blocker rule(s) and the page will load as expected.