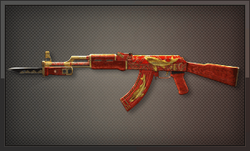 "

A modified AK47 for melee fights. Increased stability by changing the weight component increasing durability. Painted in a unique red surplus skin.

"



 

— Weapon Description 
The AK-47CQB Aka is a custom variant of the AK47 Antique, available as an in-game shop weapon purchasable with Red Tickets. Statistically and performance-wise, it is identical to the Antique.
See AK-47 Antique
The basic design of the gun is the exact same as the CQB Ao, but with the colors changed. The blue portions of the Ao have been replaced by a shade of orange.
Modifications
Edit
None
This is a very lethal weapon in Township, due to all the flanking routes, you can easily score a few melee attacks.
When out of ammo and near the enemy, you can give quick stab with the bayonet.
Notable Comparisons
Edit
This weapon is used by some AI characters in Al Annihilation.
This weapon & the M4A1 Carpio both have the same skin features such as the red/gold color scheme, Asian lettering, and the golden Carp on the body.
GIF Gallery
Edit
Ad blocker interference detected!
Wikia is a free-to-use site that makes money from advertising. We have a modified experience for viewers using ad blockers

Wikia is not accessible if you've made further modifications. Remove the custom ad blocker rule(s) and the page will load as expected.