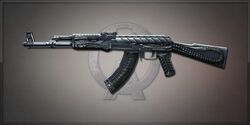 "

AK47 Predator with unique special alloy surface treatment pattern and a colored skin, it also features a new magazine.

"



 

— Weapon Description 
The AK-47 Alien a skinned variant of the AK-47 Predator. It was only released on aeria's webmall, for varying amounts of AP (Aeria Points). Statistically and performance-wise, it is identical to the Predator, but with +2 Bullets per magazine.
See AK-47 Predator
Modifications
Edit
None
The name scheme is a reference to the Alien vs. Predator movie series that was popular in the mid 2000's
Ad blocker interference detected!
Wikia is a free-to-use site that makes money from advertising. We have a modified experience for viewers using ad blockers

Wikia is not accessible if you've made further modifications. Remove the custom ad blocker rule(s) and the page will load as expected.