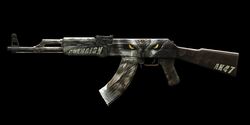 "

Special AK47 model with improved damage and precision.

"



 

— Weapon Description 
The AK47 Glaucos was added in the 2/10/2013 Content Update as an AP Rifleman weapon.
One of many variants of the AK-47, this one is unique in that it is the only one with a usable ironsight, similar to that of the M1 Garand. Compared to the AK-47 MK.3, it has lower damage (44.0 -> 36.0), but has higher range, firerate and armor piercing to compensate.
Modifications
Edit
None
Notable Comparisons
Edit
The hawk eyes on the gun glow (most visible while reloading).
It has the highest armor piercing of any rifle in the game (68.0)
GIF Gallery
Edit
Ad blocker interference detected!
Wikia is a free-to-use site that makes money from advertising. We have a modified experience for viewers using ad blockers

Wikia is not accessible if you've made further modifications. Remove the custom ad blocker rule(s) and the page will load as expected.