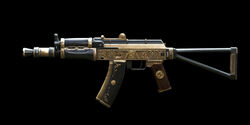 "

A custom version of the AKS-74U Desmodus, which absolutely oozes with classical beauty. It's design showcases a high-quality wooden grip and finely engraved brass trim. It features a new magazine with a slightly increased capacity.

"



 

— Weapon Description 
Overview
Edit
The AKS-74U A.V.A. 8th is a skinned variant of the AKS-74U Desmodus. It was originally released as part of the 8th Anniversary series in aeria's webmall, along with the Remington R4 A.V.A. 8th, DSR-1 A.V.A. 8th and Desert Eagle A.V.A. 8th. Statistically and performance-wise, it is identical to the Desmodus (with +2 Bullets per magazine).
The exterior is a beautiful combination of oak wood and a golden brass. It has engravings along the body of the gun to exemplify it's elegance.
See AKS-74U Desmodus
Modifications
Edit
None
Variants
Edit
This series of guns is to commemorate A.V.A.'s 8th year being open (since KAVA's launch)
Ad blocker interference detected!
Wikia is a free-to-use site that makes money from advertising. We have a modified experience for viewers using ad blockers

Wikia is not accessible if you've made further modifications. Remove the custom ad blocker rule(s) and the page will load as expected.