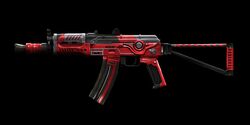 "

[AKS-74U Espada] A custom model AKS-74U Desmodus inspired by red model of the renowned italian sports car. It's equipped with a high-capacity magazine.

"



 

— Weapon Description 
Overview
Edit
The Espada wreaks havoc among other SMG's as it's consistent recoil, decent range, and high rate of fire give it a remarkable damage per second output. These advantages allow Espada users to outgun most other Pointman and Rifleman players relatively easily at close ranges. At further ranges, the modus is rendered ineffective due to its high bloom.  In terms of penetration, the modus ranks somewhere below a veresk.
A common complaint among the community is the weapon's ease of use relative to its DPS.  Some have called for the modus to be nerfed, although it has already undergone stat changes in past updates.
Modifications
Edit
Not available
Recommended Builds
Edit
No weapon modifications available.
Variants
Edit
Rush. This weapon was designed for rushing. The Espada outguns most SMGs and AR's. It Dominates the intermediate Range. The high mobility and RoF makes this the perfect flanking and rush weapon. Abuse this weapon's stats to the fullest. 
Avoid risky fights beyond 20 meters. The desmodus's range stat prevents it from dominating beyond 20 meters effectively, but it is still able to kill opponents at that range. Quick bursts aimed at the chest is enough to kill the enemy at medium range. At close range, a 5-7 shot burst is enough to kill. 
In CQB take caution of Shotguns (1 Hit KO), High DPS SMG's like Veresk/Kriss/Mp7 (80+ ROF will hurt you), same for Famas MRK3, SA 58 Para, HK416(BB)
Ad blocker interference detected!
Wikia is a free-to-use site that makes money from advertising. We have a modified experience for viewers using ad blockers

Wikia is not accessible if you've made further modifications. Remove the custom ad blocker rule(s) and the page will load as expected.