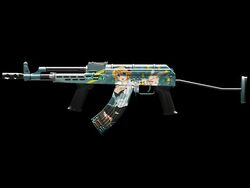 Overview
Edit
The AMD65 EVA is an upgraded variant of the AMD65. It was originally released at the beginning of the closed beta during the Aeria to En Masse transition. It is available for purchase from the in-game shop for 300 Red Tickets.
Compared to the original, it has an overall higher performance, with it's biggest upgrades being in Range (63.4 -> 69.9), Accuracy (81.6 -> 83.1) & AutoFire (9.43 -> 10.31).
The exterior has a turquoise base coat with the image of Eva along the magazine and base of the gun.
Modifications
Edit
None
Variants
Edit
In AVA SAM, the name of this gun is known as "AMD65 Actress".
Ad blocker interference detected!
Wikia is a free-to-use site that makes money from advertising. We have a modified experience for viewers using ad blockers

Wikia is not accessible if you've made further modifications. Remove the custom ad blocker rule(s) and the page will load as expected.