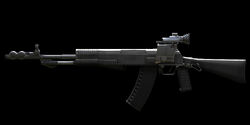 "

Unknown.

"



 

— Weapon Description 
The AN94 MOD 0 is a custom variant of the AN94 released in the September 4th 2013 Content Update.
On the surface, the AN94 Mod 0 isn't much different from the AN94. Statistically, it differs from its predecessor with an increase in accuracy and range at the cost of stability (18 to 16).
The most important difference with this new version is its stability when firing in manual (finger controlled) semi-automatic mode. While there is still crosshair bloom, if fired in semi-auto, there will be minimal movement of the camera of roughly one pixel. Because of this, the AN94 Mod 0 has turned into a single-fire weapon rather than a 2 round burst of the original AN94.
It also comes with a pre-attached scope, which has an unique blue "V" shaped sight, with the point pointed downwards. The reticle can be viewed as an disadvantage for some people, because the end of the "V" in the sight has to be slightly pointed below your target. An important fact to note is despite having virtually no camera movement when firing even with the scope zoomed in, the spread of your shot becomes noticeably wider if not walking or crouching. The only practical use of the scope is when walking or crouched, during which case the slight increase in magnification can help with target acquisition.
While this weapon shines in semi-auto, this also means a loss in DPS without illegal macro programs. In addition, without proper trigger discipline or a lag-free computer, it is easy to release two rounds rather than one. This has the effect of slightly jerking the camera, enough to throw you off target at sniping distances. In addition to the bloom, the unconventional nature of operation makes this weapon rare amongst players.
Modifications
Edit
None
- Fire only one shot per click, resist the urge to full-auto or burst except in emergencies
- Only use the scope when shift-walking or crouched if you need the magnification
Notable Comparisons
Edit
Ad blocker interference detected!
Wikia is a free-to-use site that makes money from advertising. We have a modified experience for viewers using ad blockers

Wikia is not accessible if you've made further modifications. Remove the custom ad blocker rule(s) and the page will load as expected.