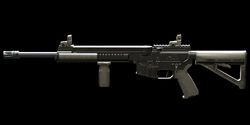 "

Designed by Rhineland Arms in the US, a custom model of the AR - 15 currently manufactured by Aero Precision.  The top magazine of the P - 90 is used so that 5.7 mm x 28 ruptures with high penetrating power can be used, and it operates in a straight blow back system.

"



 

— Weapon discription 
The AR-57 is a sub-machine gun that is available for purchase from the in-game shop. It is a very well-rounded gun, having moderate damage, high accuracy, moderate range, low recoil and lots of ammo.
Modifications
Edit
Barrel
Burst Barrel (-1.2 ACC, -1.1 AutoFire ACC, +0.76 AutoFire)
Trigger
Veteran Mechanism (-1.2 ACC, -1.1 AutoFire ACC, + Reload Speed)
Light Weight Trigger (+0.2 AutoFire ACC)
Grip
Ergonomic Grip (+1.2 ACC, +1.1 AutoFire ACC)
Silicon Grip (+0.3 ACC, +1.2 AutoFire ACC)
Recommended Builds
Edit
Ergonomic Grip, Burst Barrel & Light Weight Trigger
Burst Barrel will make the firerate even faster, spraying out bullets incredibly quickly
Ergonomic Grip will help make up for the accuracy that you lost with the Burst Barrel
Light Weight Trigger will help to make the gun more sprayable
Notable Comparisons
Edit
==Media==
Ad blocker interference detected!
Wikia is a free-to-use site that makes money from advertising. We have a modified experience for viewers using ad blockers

Wikia is not accessible if you've made further modifications. Remove the custom ad blocker rule(s) and the page will load as expected.