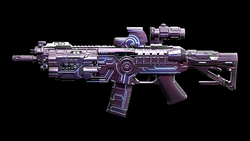 Updated Holographic Sight
"

A customized SMG incorporating upgrades and enhancements based on the data from the ARGUS project. The ARGUS 556 Commando features an expanded magazine for greater ammo capacity.

"



 

— Weapon description 
Overview
Edit
The ARGUS 556 Commando was part of the Fortune Stars Season 8 which was part of the 12/20/2016 "Holiday Havoc" update. It was the Jackpot for this season and is a unique variant of the SG552 Commando.
The ARGUS 556 Commando boasts amazing accuracy in all stances. Keeping all Accuracy and control stats above 70 whether you're jumping, moving or crouching makes this gun a formidable weapon on the move. Recoil is almost non-existent as well as bloom. Damage is pretty high for an SMG hitting almost 40 at 38.0. Combined with a range of 49.8, this gun can easily take down foes at medium range with it's accuracy and damage capabilities. The gun also comes with 5 extra bullets in the magazine bringing the total ammo count to 35. Another feature of this weapon is that it gains +1 damage per kill up to a maximum of +3 damage, allowing this weapons damage to get to a max of 41.
This gun also has a unique Mount modification only available to guns that were in the ARGUS series. It's a 3D ammo counter that floats next to your weapon.
Front:
ARGUS Ammo Counter

An ammo counter that floats next to your weapon when holding.
Notable Comparisons
Edit
This weapon has a unique scope mounted to it that is also on the X95R Ultimate Custom. These are the only 2 guns so far with this sight.
Due to this being a Fortune Stars Jackpot, this is a completely unique variant of the SG552 Commando.
This is actually modeled after the SG552 Commando, not the SG556.
Ad blocker interference detected!
Wikia is a free-to-use site that makes money from advertising. We have a modified experience for viewers using ad blockers

Wikia is not accessible if you've made further modifications. Remove the custom ad blocker rule(s) and the page will load as expected.