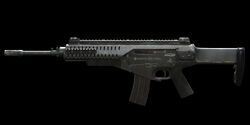 The ARX-160 is an assault rifle that has above average range. Even though the statistics seem to be above average, the ARX-160 has trouble killing fast. The damage is much higher than 34; rather it is around 40-42 damage. However, the range also lies. It is not 58 range, and is much less. The damage will drop from 42 to the low 30s once it surpasses 40 meters, not to mention the lowered penetration. At far range, the penetration is low to the point where is has difficulty penetrating armor. The stability is also a lie. The ARX-160's recoil is much more than one can imagine, and is nowhere near the stability of the M4A1 MK.3, whose stability is 60. It has slightly more recoil than the Remington R4, and probably more bloom. The recoil pattern is a narrow Z shape going straight up. The penetration is very, very low, to the point where it cannot even shoot through the corner of a cardboard box. Thus, killing enemies wearing armor is very difficult, and will take 4-5 rounds at medium range with players wearing normal armor. Conclusion: The ARX-160 is a weapon that kills slowly, has low penetration, low range, average damage, and a lot of recoil. It is highly advised not to invest in this weapon.
Modifications
Edit
The ARX-160, similar to the M4A1 MK.3, does not have any modifications.
Recommended Builds
Edit
The ARX-160, similar to the M4A1 MK.3, does not have any modifications.
Aiming for the head is the best way to avoid the low penetration.
Notable Comparisons
Edit
M4A1 MK.3: The ARX-160 has a similar spray pattern, more recoil, higher range, and same damage as the M4A1 MK.3. Though the accuracy is 75, the bloom and walking-while-shooting size crosshairs are much larger. The ARX-160 is technically the M4A1 MK.3 with higher range and slightly more accuracy while adding more recoil.
This edition of ARX-160 shows that its bolt is set in the left part of the gun,unsimilar with many weapons.
Ad blocker interference detected!
Wikia is a free-to-use site that makes money from advertising. We have a modified experience for viewers using ad blockers

Wikia is not accessible if you've made further modifications. Remove the custom ad blocker rule(s) and the page will load as expected.