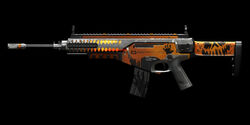 "

This modified ARX-160 is manufactured by master craftsmen using a scandium alloy, which stemmed from problems forging Beretta components due to a long-term strike. This upgraded model has enhanced fire rate, firepower and overall performance.

"



 

— Weapon Description 
Overview
Edit
The ARX-160 Jack O' Lantern is an upgraded, red ticket variant of the ARX-160. It was originally released in the capsule shop where you could by capsules for either 5 Red Tickets or 20 Blue Tickets. Then later on, it was added to the in-game shop for 300 Red Tickets. The overall performance of the gun is improved by a lot, boasting higher ATK (33.0 -> 36.0), Mobility (94.3 -> 95.4) and AutoFire (9.80 -> 10.53).
The exterior of the gun is clearly Halloween-themed, to go with the name. It's mainly orange, with dark grey/black around the barrel, grip and magazine. The stock shows a jack o' lantern's face, and black hands are stretching upwards on the magazine and directly above the grip.
See ARX-160
Modifications
Edit
None
Variants
Edit
Ad blocker interference detected!
Wikia is a free-to-use site that makes money from advertising. We have a modified experience for viewers using ad blockers

Wikia is not accessible if you've made further modifications. Remove the custom ad blocker rule(s) and the page will load as expected.