The ASW.338 is a suppresed Sniper Rifle introduced during the 16/8/2012 content update.
The ASW.338 was originally introduced for the Korean version of AVA, KAVA. It is the third sniper rifle to come with a silencer, the first being the VSS second the Blaser R93. With a base damage of 119.5, it is above the standard of most other snipers. Its range and accuracy are also quite high, with them being 94.8 and 88.8, respectively. This gun is often compared to the FR-F2, due to the fact that both guns have similar tag rates (-4.5 - 10.5), depending on armor used). However, the ASW is slightly more suited to long range fire due to its slightly higher magnification scopes, while the FR-F2 zooms slightly faster. Most players agree that the FR-F2 is the better gun due to it being more versatile, excelling in both long range and short range engagements. The main reason players buy the ASW.338 is due its integrated silencer.
Modifications
Edit
Quick Scope II
Sharpshooter Scope
.338 Lapua Trigger (+10.0 ATK, +2.6 Range, -5.9 Recoil Control)
Recommended Builds
Edit
Scope: Preference (Most people prefer Quick Scope II)
Trigger: .338 Lapua Trigger is a must, as without it, the gun will tank a very high amount.
One Hit Kill % 
Edit
| | |
| --- | --- |
| 30m | 100% |
| 40m | 100% |
| 50m | 100% |
Notes:
14 Armor equipped
10 shots per distance
Shot at the arms
Trigger: .338 Lapua Trigger 
Always quickswitch. The charging of the handle is incredibly slow otherwise.
When quickswitching, the ASW will feel natural, since you pull the bolt when you pull it out.
Do not perform standard moveshot. Either hold Shift or Crouch. This gun will miss if you attempt to jumpshot an enemy. Noscoping should be saved for 3 meters or less, and even then it is not recomended. For run-and-gun and long range combat use quickscope, but the popularity prefer double phase and the fact that the quick scope autozooms should not have any impact.
The stability of this weapon causes this gun to have horrible moveshot capabilities. Like all sniper rifles, stopping will lower the accuracy bar to the lowest. Breakshots are the substitute for moveshots. 
Notable Comparisons
Edit
The ASW.338 is made by Ashbury International Group Inc.
The rifle's full name is the AIG Asymmetric Warrior ASW338LM
Ingame it is fitted with a non-removable suppressor
GIF Gallery
Edit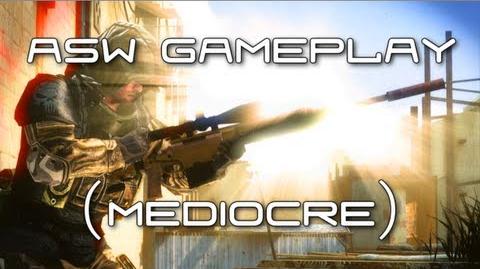 Ad blocker interference detected!
Wikia is a free-to-use site that makes money from advertising. We have a modified experience for viewers using ad blockers

Wikia is not accessible if you've made further modifications. Remove the custom ad blocker rule(s) and the page will load as expected.