Ad blocker interference detected!
Wikia is a free-to-use site that makes money from advertising. We have a modified experience for viewers using ad blockers

Wikia is not accessible if you've made further modifications. Remove the custom ad blocker rule(s) and the page will load as expected.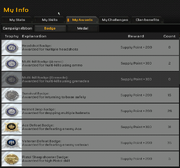 Awards are handed out to select players at the end of every match for completing certain goals or achievements. Awards can give the player supply points (ranging from 200 - 10000), as well as euros (ranging from 1000 - 50000).
Types of Awards
Edit
There are three different types or Awards players can aquire:Campaign Ribbons, Badges, and Medals.
Note: Campaign Ribbons and Medals can only be aquired once, while Badges can be awarded an infinite amount of times.
Campaign RibbonsEdit
[Insert Information here]
Head Shot Badge
Given the player who made the most headshots in the game

Multi Kill Badge (Ammo)
Given to players who make multi kills with 1 bullet

Multi Kill Badge (Nade)
Given to players who make multi kills with 1 nade

Survival Badge
Given to soldiers who safely return back

Helmet Drop Badge
Given the player who makes the most head kills with knife

Ace Defeat Badge
Given the player who kills the opponent team's ace

Veteran Defeat Badge
Given the player who kills the opponent team's veteran

Pistol Sharpshooter Badge
Given the player who shows good results using a hand gun

AR Sharpshooter Badge
Given the player who shows good results using an automatic rifle

SMG Sharpshooter Badge
Given the player who shows good results using an SMG

SR Sharpshooter Badge
Given the player who shows good results using an Sniper Rifle

Pistol Marksman Badge
Given the player who kills many people with a hand gun

AR Marksman Badge
Given the player who kills many people with an automatic rifle

SMG Marksman Badge
Given the player who kills many people with an SMG

SR Marksman Badge
Given the player who kills many people with a Sniper Rifle

Accomplishment Badge
Given the player who contributed the most to the success of the mission

Invincible Service Badge
Given the player who accomplish the goal with the least damage taken
[Insert Information here]