This article is a stub. You can help Alliance of Valiant Arms Wiki by expanding it.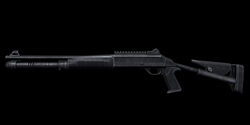 "

Semi-automatic shotgun designed and manufactured by Benelli Army S.P.A., Italy. Manufacturer's name is M4 Super90. Accuracy in semi-automatic mode has improved by adopting ARGO system. Manual pump shot is not supported.

"



 

— Weapon Description 
The Benelli M1014, or M4 Super 90, is a Shotgun first introduced during the 04-29-10 Content Update.
The Benelli M1014 packs enormous amounts of stopping power and is automatic, allowing it to kill efficiently and quickly. However, this weapon lacks penetration as it fires a spray of buckshot, not a single bullet that other weapons utilize. The Benelli is capable of taking on multiple enemies depending on certain conditions. Within buildings, the Benelli is able to eliminate enemies almost instantaneously. The damage and ROF is very similar to the FN TPS.
Modifications
Edit
There are no known modifications for the Benelli M1014.
Recommended Builds
Edit
There are no known modifications for the Benelli M1014.
There are no variants of the Benelli M1014.
Since the Benelli M1014 is a shotgun that loads one shell at a time, it is advised to have it fully reloaded before entering fights. Reloading before fights is important for this weapon because of it's painfully slow reload speed and low ammo capacity. 
Stay inside buildings to maximize this weapons effectiveness or flank the enemies. This weapon is not as loud as other shotguns and is able to dispatch enemies without being heard if one is flanking.
Due to the low penetration rate, getting a good shot at your enemy is a do or die situation. The horrible range added with the low penetration will get the user killed if the enemy is not dead at the first shot. A reliable secondary is highly recommended to finish off the enemy when needed.
Notable Comparisons
Edit
FN TPS: The FN TPS is nearly identical to the Benelli, just 4 higher range points, more damage, and of course, the higher penetration rate. However, the FN TPS can be modified.
Its semi-automatic function is so impressive,SWAT teams, the U.S. Marine Corp and British Armed Forces utilize the weapon to some extent. As shotguns rarely pass military specs now, the M1014/M4 Super 90 is quite the deed.
Despite using the U.S military designation and holding 6 shells,it is modeled with the civilian 4 round magazine-tube.