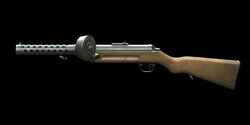 "

The first practical SMG model used by the German infantrymen in the trenches of WWI. It features a classic yet unique exterior, equipped with Pistole 08-specific drum magazine.

"



 

— Weapon Description 
Overview
Edit
The Bergmann MP18 is an exclusive SMG added in 2015 to the capsule shop, and has ever since then not been available anywhere else in the game other than aeria's webmall. The overall performance of the gun is very impressive. Having a high 38 ATK with 47.7 Range and barely any recoil, this weapon is a top tier firearm.
The overall appearance of the gun is unique in the fact that it is a World War I weapon, and that you load the magazine in from the side (only other weapons in the game to do this are L2A3 and FG42).
Modifications
Edit
None
Close-Quarters the weapon can easily be sprayed with control. The crosshair blooms quite a bit when fully sprayed, but it can be controlled
Mid-Range the gun should be 2-3 shot bursted. This gives the crosshair time to recover and the recoil to settle down
Long Range 1-2 shot burst. It's range is high enough that it can be effective at range, but should try to be avoided
Variants
Edit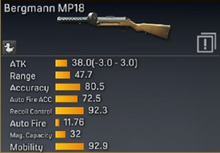 Ad blocker interference detected!
Wikia is a free-to-use site that makes money from advertising. We have a modified experience for viewers using ad blockers

Wikia is not accessible if you've made further modifications. Remove the custom ad blocker rule(s) and the page will load as expected.