This article is a stub. You can help Alliance of Valiant Arms Wiki by expanding it.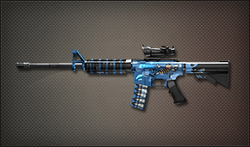 "

A field-modified version of the M4A1. Improved barrel and ammunition provides higher firepower.

"



 

— Weapon Description 
The BumBlueBee is an Assault Rifle currently available in KAVA. It is a Capsule Shop variant of the M4A1 an has recently been introduced to UAVA in the december 2013 content update.
The M4A1 Bumbluebee is the upgraded version of its predecessor, the Bumblebee. Though the stats have gone a huge underchange and have stats nearly the same as the M4A1 Mk.3, the Bumbluebee is actually very similar to the Bumblebee. They both need to be 2-3 bursted and have very similar recoil. Despite its similarities, it has a blue muzzle flash and has a blue design featuring the old Bumblebee. In summary, if you want a cheaper gun that performs just like the Bumbluebee, just get the Bumblebee.
Modifications
Edit
Long Range Barrel II (+3 Range)
Burst Barrel (+2 RoF, -1 Accuracy)
Reinforced Barrel (+3 Damage, -1 Stability, -1 RoF)
Magazine + Trigger (+3 Ammo)
Ergonomic Grip(+1 Accuracy)
Weight Grip (+1 Stability, -1 Mobility)
Ad blocker interference detected!
Wikia is a free-to-use site that makes money from advertising. We have a modified experience for viewers using ad blockers

Wikia is not accessible if you've made further modifications. Remove the custom ad blocker rule(s) and the page will load as expected.