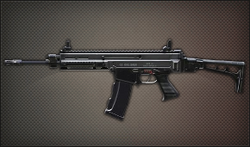 "

Formality gun a is being developed for the purpose of successor of Vz58 was Czech army of next generation assault rifle .

Although the internal structure and silhouette is similar to the FN SCAR, including 5.56x45mm NATO ammunition with only exchange of each unit

I can respond to a wide range of caliber such as 7.62x39mm bullets and 6.8x43mm SPC bullets .

"



 

— Weapon Description 
An assault rifle that arrived in the 06-04-14 Content Update.
This Gun Is Like The XM8 a Spray Gun With Low Recoil Medium Damage But Slow Rate of Fire !
It Plays Same Like the XM8 You need to Burst 4-5 Rounds To use it Perfect !
Modifications
Edit
No mod for this gun
Recommended Builds
Edit
Like it says...no mod
Notable Comparisons
Edit
Designed by Česká Zbrojovka of the Czech Republic, Introduced to the public in 2009, the CZ 805 replaced the SA vz.58 assault rifle as the standard infantry rifle of the Czech Armed Forces and has been in service since 2011.
Ad blocker interference detected!
Wikia is a free-to-use site that makes money from advertising. We have a modified experience for viewers using ad blockers

Wikia is not accessible if you've made further modifications. Remove the custom ad blocker rule(s) and the page will load as expected.