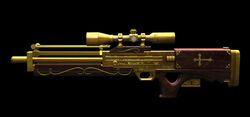 "

This is a custom version of the WA2000, symbolizing the exquisite mechanism of the weapon itself by using an antique manual process to form the metal. It has a slightly increased magazine capacity thanks to a new magazine.

"



 

— Weapon Description 
Overview
Edit
The Clockwork 2000 is a skinned variant of the Walther WA2000. It was originally released as a possible prize from the Mega Capsules. Statistically and performance-wise, it is identical to the Walther WA2000.
The exterior is mainly made of a dark wood, with a gold brass created the rest of the gun. All throughout the gun you can see features giving off an antique vibe; from the cross on the stock, to the gears on the base of the gun and the clock on the scope dial, it is a very elegantly designed weapon.
See Walther WA2000
Modifications
Edit
Front
Upgrade Kit (+3.0 ATK, +6.8 Range)
Mount
Precision Scope (Fast, double phase)
Quick Scope (Fast, single phase)
Barrel
Long Range (+? Range)
Sharpshooter Barrel (+2.4 ACC, +2.3 AutoFire ACC, -0.35 AutoFire)
Reinforced Barrel (+8 ATK, -0.8 Recoil Control, -0.08 AutoFire)
Grip
Weight Grip (+2.7 Recoil Control, -0.8 Mobility)
Rapid-fire Grip (+0.23 AutoFire)
Stock
Light Stock (+2.1 Mobility)
Heavy Stock (+2.0 Recoil Control, -2.0 Mobility)
Recommended Build(s)
Edit
Variants
Edit
Ad blocker interference detected!
Wikia is a free-to-use site that makes money from advertising. We have a modified experience for viewers using ad blockers

Wikia is not accessible if you've made further modifications. Remove the custom ad blocker rule(s) and the page will load as expected.