Requirements
Edit
---
En Masse Entertainment website provides no requirements.
Creation
Edit
---
Click on photograph to view.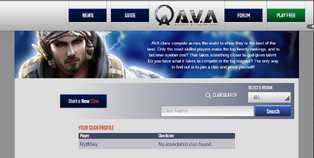 Creating a clan in A.V.A. is in fact. A simple task. You first sign in at EME website. Under the Clan info, click on Learn More to open the clan page. To create a clan, click the "Create Clan" where you'll be prompted to answer a few simple questions. Upon finishing the questions you will be notified that the clan will be accepted and officially created in a period of 24 hours(a full day).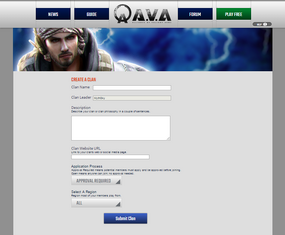 Sign in to the EME website
Go to the Clan Page
Under Your Clan Profile you can see your own stats
Top ranking clans are listed below
There is a search bar for clans
To start a clan, press 'Start a new Clan'. Fill in the form and wait 24 hours
Log-in, and reap the benefits of being leader
Ad blocker interference detected!
Wikia is a free-to-use site that makes money from advertising. We have a modified experience for viewers using ad blockers

Wikia is not accessible if you've made further modifications. Remove the custom ad blocker rule(s) and the page will load as expected.