Requirements
Edit
---
Aeria Games website provides no requirements.
Creation
Edit
---

Click on photograph to view.

Creating a clan in A.V.A. is in fact. A simple task. You first sign in at http://aeriagames.com. Click the clan tab, and click the "Create Clan" where you'll be prompted to answer a few simple questions. Upon finishing the questions you will be notified that the clan will be accepted and officially created in a period of 24 hours(a full day)
.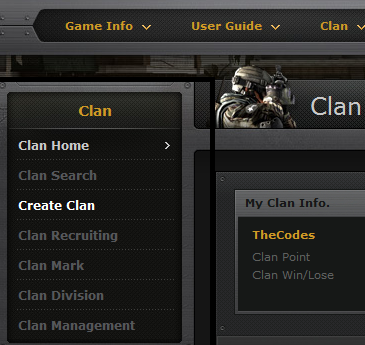 Sign in to http://aeriagames.com
Go to A.V.A. Homepage http://ava.aeriagames.com
Click Clan tab shown in 1st picture
Click Create Clan shown in 2nd picture
Answer questions asked
Wait 24 hours
Log-in, and reap the benefits of being leader
Ad blocker interference detected!
Wikia is a free-to-use site that makes money from advertising. We have a modified experience for viewers using ad blockers

Wikia is not accessible if you've made further modifications. Remove the custom ad blocker rule(s) and the page will load as expected.