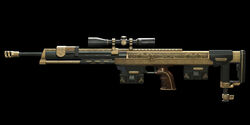 "

A custom version of the DSR-1 Dark Angel which is an excellent bolt action sniper rifle. Boasting elegance and class, even its magazine is inlaid with delicate brass detailing. It features a new magazine with a slightly increased capacity.

"



 

— Weapon Description 
The DSR-1 8th Anniversary (stylized as DSR-1 A.V.A. 8th in-game) is a skinned variant of the DSR-1 Dark Angel. It was originally released as a line of skins in Aeria's Webmall, along with the Remington R4 8th Anniversary, AKS-74U 8th Anniversary and Desert Eagle 8th Anniversary. Statistically and performance-wise, it is identical to the Dark Angel (with +1 Bullet per magazine).
See DSR-1 Dark Angel
The exterior is simple, yet elegant. It's main coat is black, with gold plating along the body and barrel. It also has gold accents and engravings throughout most of the gun. The basic look of the skin is similar to that of the Big Horn series.
Modifications
Edit
Mount
Quick Scope 2 (Fast, single phase)
High-powered Scope 2 (Slower, double phase)
Grip
Ergonomic Grip 2 (- ACC, + AutoFire Abilities)
Weight Grip 2 (-8.1 Recoil Control, +1.6 Mobility)
Stock
Heavy Stock 2 (+11.9 Recoil Control, -0.8 Mobility)
Shock Absorber 2 (+ AutoFire Abilities, - Scope Speed)
Recommended Build(s)
Edit
Quick Scope 2, Ergonomic Grip 2, Heavy Stock 2
Since the gun is designed to be more of an offensive, rushing sniper, using the Quick Scope is a must, providing you the ability to have faster reaction times and faster kills
Ergonomic Grip will help improve your abilities to quickswitch it during play, with the downside of having an undefined amount of accuracy lost
Heavy Stock will improve your ability to moveshot with the gun, while barely losing any mobility
One Hit Kill % 
Edit
Notes:
14 Armor equipped
10 shots per distance
Shot at the arms
Barrel: None 
This line of skins (8th Anniversary) was originally released in the Korean Version of the game in 2015. If it was commemorating only our version, it would have been released in 2017
Ad blocker interference detected!
Wikia is a free-to-use site that makes money from advertising. We have a modified experience for viewers using ad blockers

Wikia is not accessible if you've made further modifications. Remove the custom ad blocker rule(s) and the page will load as expected.