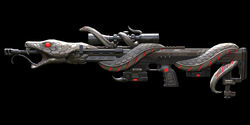 "

Soldiers carrying this weapon are recognized members of the Alliance Lobby. They are hit men who strike only if paid accordingly. Its overwhelming appearance reflects superior performance and extreme luxury. The magazine is increased by 3 ammo. This weapon cannot be picked up by other soldiers

"



 

— Weapon Description 
The DSR-1 Black Snake is an upgraded version of the DSR-1 with a very different exterior aesthetic. It was made available as the Collecting Bonus from Season 4 of Mega Capsule.
Modifications
Edit
Mount
Quick Scope 2 (Fast, Single Phase)
High Powered Scope (Slower, Double Phase)
Recommended Builds
Edit
Quick Scope 2
Since this gun is designed to be a rushing sniper, you want a fast scope capable of making quick scopes easily.
One Hit Kill % 
Edit
Notes:
14 Armor equipped
10 shots per distance (No damage buffs so it would be consistent)
Shot at the arms
Barrel: None 
Movement Speed Comparison
Edit
In this video it shows the movement speed differences (97.5 vs 99.1) between the DSR Black Snake and DSR Angel (Weight Grip 2)
Notable Comparisons
Edit
Ad blocker interference detected!
Wikia is a free-to-use site that makes money from advertising. We have a modified experience for viewers using ad blockers

Wikia is not accessible if you've made further modifications. Remove the custom ad blocker rule(s) and the page will load as expected.