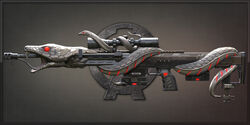 "

Unknown

"



 

— Weapon Description 
This Gun Is The Collecting Bonus of the 4 Season of Mega Capsule If you get Get All Mega Capsule Weapons The gun Itself is a Free gun !
But the ap you have to spent for all Mega Capsule weapons is 40000 Ap= 275€ !
This gun Is Extreme Overpowered +3 Damage +8 Range +3 Ammo Compared to Basic DSR-1 And it have extra Damage For every Kill you will get +1 Damage Maximum Extra Damage is +3 !
Modifications
Edit
Recommended Builds
Edit
Notable Comparisons
Edit
Ad blocker interference detected!
Wikia is a free-to-use site that makes money from advertising. We have a modified experience for viewers using ad blockers

Wikia is not accessible if you've made further modifications. Remove the custom ad blocker rule(s) and the page will load as expected.