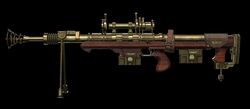 "

A casual transcendent traveling inventor Dr. Steam, has produced this collaborated commemorative, DSR-1-based modified sniper model.

"



 

— Weapon Description 
Overview
Edit
The DSR-1 Dr. Steam is a skinned variant of the DSR-1 Dark Angel. It was originally released in the 03-28-17 update, as a possible reward from Fortune Stars Season 9. Statistically and performance-wise, it is identical to the Dark Angel (with +1 Bullet per magazine).
See DSR-1 Dark Angel
The exterior goes along with the "Steampunk" theme that every gun from this season has. The whole gun appears to be made of brass and wood. The scope appears to be telescoping and resembles a telescope. The barrel is also enlarged.
Modifications
Edit
Mount
Quick Scope 2 (Fast, single phase)
High-powered Scope 2 (Slow, double phase)
Grip
Ergonomic Grip 2 (+ AutoFire, - ACC)
Weight Grip 2 (+1.6 Mobility, -8.1 Recoil Control)
Stock
Heavy Stock 2 (+11.9 Recoil Control, -0.8 Mobility)
Shock absorber 2 (+ AutoFire, - Scope Speed)
Recommended Build(s)
Edit
One Hit Kill % 
Edit
Notes:
14 Armor equipped
10 shots per distance
Shot at the arms
Barrel: None 
Variants
Edit
Ad blocker interference detected!
Wikia is a free-to-use site that makes money from advertising. We have a modified experience for viewers using ad blockers

Wikia is not accessible if you've made further modifications. Remove the custom ad blocker rule(s) and the page will load as expected.