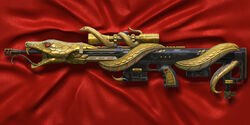 The DSR-1 Gold Snake is a skinned variant of the DSR-1 Black Snake. It was originally released in the Gold Snake Box in the capsule shop along with the AKS-74U Gold Snake and AK-47 Gold Snake.
Modifications
Edit
Mount
Quick Scope 2 (Fast, Single Phase)
High Powered Scope (Slower, Double Phase)
Recommended Builds
Edit
Quick Scope 2
Since the gun was designed to be a rushing sniper, you'll want to use the quick scope to increase it's flexibility.
One Hit Kill % 
Edit
Notes:
14 Armor equipped
10 shots per distance (No damage buffs so it would be consistent)
Shot at the arms
Barrel: None 
Notable Comparisons
Edit
Ad blocker interference detected!
Wikia is a free-to-use site that makes money from advertising. We have a modified experience for viewers using ad blockers

Wikia is not accessible if you've made further modifications. Remove the custom ad blocker rule(s) and the page will load as expected.