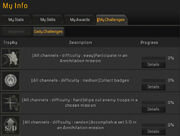 Daily Challenges are optional tasks bestowed upon every player when logging into AVA. These challenges vary from easy to hard, depending how much time and skill each one takes. A successful completion of a Daily Challenge will reward the Player with additional Experience and Battle Points to be used in ranking up and buying items from the Capsule Shop. 
By completing all four daily tasks, there is a small chance that there will be a 5,000 SP or 5,000 EXP bonus. A lot of users believe the percentage chance of receiving this bonus is 10% – wether or not this is true is up for debate. 
Challenge Types
Edit
Participation (Easy) - Play in 3 matches of Annihilation, Demolition, or Escort Challenges. Yields 120 Exp and 5 BP.
Badge Collection (Medium) - Collect 2 badges. Tenancy badges don't count. Yields 90 Exp and 10 BP
Luckyshot Collection (Medium) - Score 8 Luckyshots. Chances for Luckyshots are improved while wearing ( ). Yields 90 Exp and 10 BP.
Elimination (Hard) - Kill 120 enemies in Annihilation, 100 enemies in Escort, or 60 enemies in Demolition. Yields 60 Exp and 15 BP.
Score/Death Ratio (Random) - Play in a match of Annihilation, Demolition, or Escort and end the match with a SDR varying from 0.7 to 3.0. Playing cautiously and tactfully can lead this Daily Challenge to be the first one completed everyday. Yields 30 Exp and 20 BP.
Ad blocker interference detected!
Wikia is a free-to-use site that makes money from advertising. We have a modified experience for viewers using ad blockers

Wikia is not accessible if you've made further modifications. Remove the custom ad blocker rule(s) and the page will load as expected.