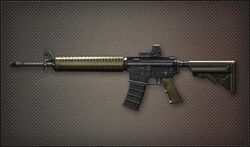 "

The new AR design upgraded from the C7 rifle, the Canadian version of the M16A2. The inclusion of a retractable butt plate similar to that of the C8, mounting rail for accessories, and an improved scope give it an overall performance boost.

"



 

— Weapon Description 
The Diemaco C7A2 was a Canadian Assault Rifle first introduced during the 10-20-11 Content update.
The Diemaco C7A2 can be viewed as the upgraded version of the M16A2, as it features higher stability and noticeably higher damage. The Diemaco comes with a default Red Dot Sight X2, and can be modified to a unique Elcan Spector Scope X4. The damage is medicore, and the stability is high. However, the problematic bloom, similar to the TAR-21, causes bad moveshot and the inability to sustain automatic fire. The bloom forces the user to burst or tap, and is highly recommended to crouch. The somewhat lower accuracy and high bloom pretty much makes the Diemaco C7A2 a weapon used for close quarters. Though the headshot range is relatively low (15 meters), the Diemaco C7A2 has the ability to shoot through many obstacles, such as metal doors, wooden and carboard boxes, and some walls. The Diemaco C7A2 was designed for hardened players (experienced players), as the bloom and recoil will cause a beginner to spray mindlessly and not hit anything. Due to the low accuracy and somewhat larger crosshairs, the Diemaco C7A2 has a hard time pulling headshots, and even hitting the enemy past 35 meters. With modifications, players can choose whether or not to modify the Diemaco C7A2 to perform better in close quarters (ROF modifications), or perform better at ranges (range, stability, and accuracy modifications).
Overall, this is a upper-tier weapon that is superior to many within its class, but is not good enough to be considered "top tier". For those interested, it is still a recommended choice and is a nice fit for fans of mid-long combat, and can still perform well at close quarters when needed. However, the Diemaco C7A2 was strictly meant for people who can control problematic bloom and moderate recoil.
Modifications
Edit
Long Range Barrel (Range +3.7)
Burst Barrel (Accuracy -1.6, Auto Fire ACC -1.0, Auto Fire +0.61)
Precision Trigger (Accuracy +1.7, Auto Fire ACC +1.5)
Weight Grip (Recoil Control +1.6, Mobility -0.7)
Light Stock (Mobility +1.9)
Shock Absorber (Acciracy +2.4, Auto Fire ACC +2.4)
Recommended Builds
Edit
Medium-Long Range
Elcan Spector Scope: Provides X4 zoom
Long Range Barrel: Provides even greater range, thus improving DPS.
Weight Grip
Medium-Long Range V2 (Rapid fire & Burst fire)
Burst Barrel
Weight Grip
Shock Absorber
ROF Build (for close quarter combat)
Burst Barrel
OPTIONAL: Light Stock: Good for rushers, as it provides more mobility
Crouch whenever available, as the moveshot of the Diemaco C7A2 isn't that great.
Always burst 2-3 rounds or tap. This is the only way to handle the problematic bloom.
Crouch AND burst/tap. This lets the Diemaco C7A2 perform at its maximum stability and accuracy.
Aim for the head. Though it can only 1 shot kill headshot up to 15 meters, the Diemaco C7A2 can easily penetrate body armor. If one round hits the head, the enemy will be left with little HP, making it easier to kill when shooting at the chest or torso.
Notable Comparisons
Edit
Diemaco has been renamed Colt Canada since 2005.
The C7A2 is used by the Canadian Armed Forces and numerous law enforcement agencies across Canada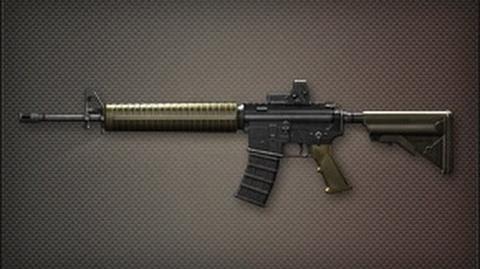 Ad blocker interference detected!
Wikia is a free-to-use site that makes money from advertising. We have a modified experience for viewers using ad blockers

Wikia is not accessible if you've made further modifications. Remove the custom ad blocker rule(s) and the page will load as expected.