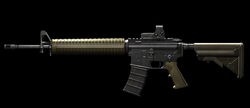 "

The new AR design upgraded from the C7 rifle, the Canadian version of the M16A2. The inclusion of a retractable butt plate similar to that of the C8, mounting rail for accessories, and an improved scope give it an overall performance boost.

"



 

— Weapon Description 
The Diemaco C7A2 is an upgraded version of the Diemaco C7A2 Origin. It has an overall improved peformance, with it's main upgrades being in ATK (+4.0) and Range (+3.5). It was originally added in early 2017 to permanently replace the Origin in the in-game shop.
See Diemaco C7A2
Modifications
Edit
Long Range Barrel (Range +3.7)
Burst Barrel (Accuracy -1.6, Auto Fire ACC -1.0, Auto Fire +0.61)
Precision Trigger (Accuracy +1.7, Auto Fire ACC +1.5)
Weight Grip (Recoil Control +1.6, Mobility -0.7)
Light Stock (Mobility +1.9)
Shock Absorber (Acciracy +2.4, Auto Fire ACC +2.4)
Recommended Builds
Edit
Medium-Long Range
Elcan Spector Scope: Provides X4 zoom
Long Range Barrel: Provides even greater range, thus improving DPS.
Weight Grip
Medium-Long Range V2 (Rapid fire & Burst fire)
Burst Barrel
Weight Grip
Shock Absorber
ROF Build (for close quarter combat)
Burst Barrel
OPTIONAL: Light Stock: Good for rushers, as it provides more mobility
Crouch whenever available, as the moveshot of the Diemaco C7A2 isn't that great.
Always burst 2-3 rounds or tap. This is the only way to handle the problematic bloom.
Crouch AND burst/tap. This lets the Diemaco C7A2 perform at its maximum stability and accuracy.
Aim for the head. Though it can only 1 shot kill headshot up to 15 meters, the Diemaco C7A2 can easily penetrate body armor. If one round hits the head, the enemy will be left with little HP, making it easier to kill when shooting at the chest or torso.
Notable Comparisons
Edit
Diemaco has been renamed Colt Canada since 2005.
The C7A2 is used by the Canadian Armed Forces and numerous law enforcement agencies across Canada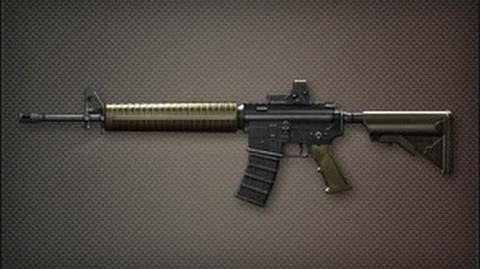 Ad blocker interference detected!
Wikia is a free-to-use site that makes money from advertising. We have a modified experience for viewers using ad blockers

Wikia is not accessible if you've made further modifications. Remove the custom ad blocker rule(s) and the page will load as expected.