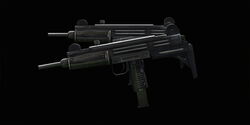 "

Modified Dual Uzi for advanced warfare. It brings more efficient firepower and weapon management.

"



 

— Weapon Description 
Dual Uzi is euro capsule variant of Uzi added at 23th January 2013 Content Update
Dual Uzi is a very powerful Pointman weapon. With its high capacity magazine, high mobility and penetration it can rival with almost any Assault Rifle and Submachine Gun while within 10m. Even though excelling at DPS its range is its biggest drawback. The Dual Uzi is unable to rival with shotguns at close range because most of the shotguns will kill you quicker. It is also fairly impossible to compete at 20m+ with any rifle. This is typical face to face weapon. Players using this weapon have to stick to close quarters. The reload time is also extremely long, so, if you wish to use this weapon, have a sidearm that has a big mag that you can pull out quickly, because these guns empty fast in any firefight.
Modifications
Edit
No mods
Recommended Builds
Edit
No mods
The Dual UZI fires a round from each gun simultaneously, so both will empty at the exact same time. This also means that the damage output is effectively doubled.
The bloom is quite high after the 7-8 shot, so bursting is recommended
Notable Comparisons
Edit
The stats of Dual TMP and Dual Uzi are almost the same - the Uzi has one more damage and one more accuracy.
Ad blocker interference detected!
Wikia is a free-to-use site that makes money from advertising. We have a modified experience for viewers using ad blockers

Wikia is not accessible if you've made further modifications. Remove the custom ad blocker rule(s) and the page will load as expected.