"

A combat knife that has seen a good deal of modern improvements in shape while also retaining its traditional design.

"



 

— Weapon Description 
This weapon was a common timed item reward from the Old Death Valley Co-op mission. Now this weapon is discontinued.
This is the weakest Kukri in-game.
It used to have the same stats as the Tai-chi Sword.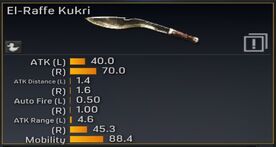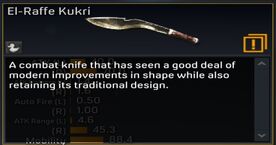 GIF Gallery
Edit
Ad blocker interference detected!
Wikia is a free-to-use site that makes money from advertising. We have a modified experience for viewers using ad blockers

Wikia is not accessible if you've made further modifications. Remove the custom ad blocker rule(s) and the page will load as expected.