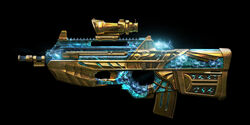 "

Another provocative design from gunsmith L.Gunner, this Fortune Star commemorative edition of the F2000 Scandium resembles the magical seas of a lost civilization. It features a new magazine with a slightly increased capacity.

"



 

— Weapon Description 
The F2000 Aqua Horizon is a skinned variant of the F2000 Scandium. It was originally released as a possible prize from Season 2 of Fortune Stars. Statistically and performance-wise, it is identical to the Scandium (with +2 Bullets per magazine).
See F2000 Scandium
The exterior appears to be made of gold, with glowing blue portions throughout the grip, stock and rails of the weapon.
Modifications
Edit
Burst Barrel (+0.52 RoF , -0.5 Accuracy, -0.4 Auto Fire ACC)
Long Range Barrel MK ll (+8.1 Range)
Reinforced Barrel (+4 Damage ,-0.73 Rof )
Sharpshooter Barrel (+2.3 Accuracy, +2.2 Auto Fire ACC, -0.47 RoF)
Notable Comparisons
Edit
M4A1 MK.4. The 2 weapons have similar DPS, recoil and bloom levels.
Ad blocker interference detected!
Wikia is a free-to-use site that makes money from advertising. We have a modified experience for viewers using ad blockers

Wikia is not accessible if you've made further modifications. Remove the custom ad blocker rule(s) and the page will load as expected.