"

A custom variant of the FN F2000. The chemically treated bullets give it a more stopping power against the zombies. This one-time-only rifle comes with a special camouflage from a Spanish maestro.

"



 

— Weapon Description 
The F2000 Navidad is a skinned variant of the FN-F2000. It was originally released as one of the original Christmas-themed guns, only being available for a limited amount of time in the Capsule Shop and Web Mall. Statistically and performance-wise, it is identical to the normal FN-F2000.
The exterior is obviously very Christmas-themed. Nearly the entire gun is red, with white accents around the grip, magazine and stock. Along the top rail and stock of the gun, it reads "Merry Christmas" with snowflakes. As well, there is a pinup girl on the butt of the gun wearing a Christmas outfit.
See FN-F2000
Modifications
Edit
Burst Barrel (+0.52 RoF , -0.5 Accuracy, -0.4 Auto Fire ACC)
Long Range Barrel MK ll (+8.1 Range)
Reinforced Barrel (+4 Damage ,-0.73 Rof )
Sharpshooter Barrel (+2.3 Accuracy, +2.2 Auto Fire ACC, -0.47 RoF)
The name of "Navidad" means "The Christmas" in Spanish.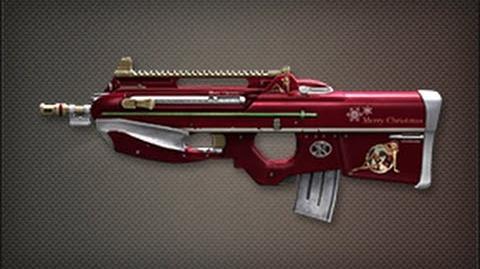 Ad blocker interference detected!
Wikia is a free-to-use site that makes money from advertising. We have a modified experience for viewers using ad blockers

Wikia is not accessible if you've made further modifications. Remove the custom ad blocker rule(s) and the page will load as expected.