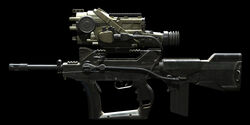 "

Advanced AR of FA-MAS, developed as the 2nd generation model for FELIN (Integrated Infantryman Equipment and Communications) system, currently in use in France. Its composition is based on the integrated optical imaging system.

"



 

— Weapon Description 
Overview
Edit
The FA-MAS FELIN is an upgraded variant of the FAMAS MK.3. It was originally released in it's own Capsule in the Capsule Shop, and has since then only been available on Aeria's webmall. Compared to the MK.3, nearly every aspect is improved. It is one of the few rifles in the game where using the sight on it actually improves it's performance.
Modifications
Edit
None
Use the scope on the gun whenever possible. Using it will improve accuracy and recoil drastically
Variants
Edit
When the gun was first released, it was criticized for how large and obnoxious the sight on it is. This was until players realized how powerful the sight made the gun

Ad blocker interference detected!
Wikia is a free-to-use site that makes money from advertising. We have a modified experience for viewers using ad blockers

Wikia is not accessible if you've made further modifications. Remove the custom ad blocker rule(s) and the page will load as expected.