This article is a stub. You can help Alliance of Valiant Arms Wiki by expanding it.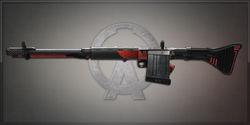 "

A weapon painted in a unique pattern and is used by rogue troops. A very mysterious model...

"



 

— Weapon Description 
The FG42 Roswell is a custom variant of the FG42 first released for the "AVA 51" loyalty program, redeemable through the spending of Aeria Points.
Modifications
Edit
The FG42 Roswell cannot be modified.
Recommended Builds
Edit
The FG42 Roswell cannot be modified.
Notable Comparisons
Edit
The name of this gun is a reference to the Roswell incident where a UFO supposedly crashed into the town of Roswell. The custom paintjob of the Roswell looks like a high tech cybernetic cover, referencing to aliens.
Following KAVA's endorsement from Alienware, six "Roswell" weapons were created, each sporting the Alienware logo. Two weapons were made for each class: the SR-2M Roswell and MP7A1 Roswell for Point Man, the M4A1.MK3 Roswell and FG42 Roswell for Rifle Man, and the TPG1 Roswell and Mosin-Nagant Roswell for Sniper. This gun and the Mosin-Nagant Roswell were joint second of the Roswell series to be brought over to UAVA.
GIF Gallery
Edit
Ad blocker interference detected!
Wikia is a free-to-use site that makes money from advertising. We have a modified experience for viewers using ad blockers

Wikia is not accessible if you've made further modifications. Remove the custom ad blocker rule(s) and the page will load as expected.