This article is a stub. You can help Alliance of Valiant Arms Wiki by expanding it.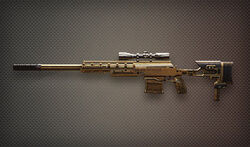 "

Service rifle of the US SOCOM with a similar handling characteristic than the TPG-1.The weapon is relatively light and,in the hands of an experienced marksman capable of rapid fire

"



 

— Weapon Description 
This was released in the 06-04-14 Content Update.In Some AVA Versions It Replace TheTPG1 in the ingame shop !
This gun is a Buffed (Upgraded) TPG1 It has the same power and the Same extreme high Penetration but without the slow scope in speed of the TPG
Modifications
Edit
Precision Scope
High magnification Scope
.338 Lapua Barrel (+15.0 Damage ,-7.9 Stability)
Precision Trigger (+2.5 Accuracy)
Ergonomic Grip (+1.4 Accuracy)
Weight Grip (+12.1 Stability ,-0.8 Mobility)
Heavy Stock (+8 Stability ,-1.2 Mobility)
Shock Absorber (+4.5 Accuracy)
Recommended Builds
Edit
Precision Scope (+3 Range)
.338 Lapua Barrel (+10 Damage ,-2 Stability)
Precision Trigger (+1 Accuracy ,-1 Stability)
Weight Grip (+1 Stability ,-1 Mobility)
Heavy Stock (+2 Stability ,-2 Mobility)
One Hit Kill % 
Edit
| | |
| --- | --- |
| 30m | 100% |
| 40m | 100% |
| 50m | 100% |
Notes:
14 Armor equipped
10 shots per distance
Shot at the arms
Barrel: .338 Lapua Barrel 
Notable Comparisons
Edit
TPG1 Have -2 Accuracy -6 Mobility -2 Rate of Fire
TPG1 EPKO Have +2 Range -1 Accuracy -2 Rate of Fire +1 Magazine Size !
Intrestingly, the weapon's description claims it is fielded by USSOCOM although in real life the Remington MSR won the SOCOM PSR trials, not the Ballista. Other contenders in the trials included the Blaser R93 LRS2 and Ashbury ASW338 (Both usable ingame.)
GIF Gallery
Edit
Ad blocker interference detected!
Wikia is a free-to-use site that makes money from advertising. We have a modified experience for viewers using ad blockers

Wikia is not accessible if you've made further modifications. Remove the custom ad blocker rule(s) and the page will load as expected.