This article is a stub. You can help Alliance of Valiant Arms Wiki by expanding it.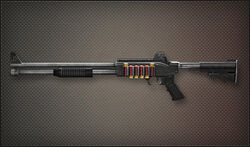 "

A custom variation of the Winchester 1300 shotgun mounted with the stock, pistol grip, and Picatinny rail of M4. TPS is an abbreviation for Tactical Police Shotgun.

"



 

— Weapon Description 
The FN TPS is a Shotgun first introduced during the 03-10-11 Content Update.
The FN TPS is a pump-action shotgun that features higher damage, range, and stability than the M1014, but with the cost of a lower rate of fire and magazine size. However, the magazine size can be quickly remedied with the magazine replacement trigger modification.
This gun has a high potential of "Trolling" Zombies in infection mode, because its raw power literally forces them back.
Modifications
Edit
Barrel
Birdshot Barrel (+4 Damage ,-2 Range -1 Accuracy ,-2 RoF) Use if you want to own those infected ;)
Trigger
Magazine Type Replacement (+2 Ammo ,-2 Stability) RECOMMENDED!
Recommended Builds
Edit
The magazine replacement is highly recomended due to fn-tps's low ammo capacity. The birdshot barrel is not recomended since the most important in shotguns is ROF, DMG, range. Even if B-shot barrel gives +4 damage it takes -2 range which is noticable when playing with this barrel.
Time each shot... That will give you a great ammount of ROF aginst several enemies.
For longer distance(+7M) try shooting with the zoom.
Putting the Birdshot barrel on the weapon will increase the number of pellets to around 26 pellets instead of the original 8 pellet, but the downside is each pellet deals very low damage and the size of the crosshair is increased drastically when hip-firing .
Notable Comparisons
Edit
The ingame descrition mentions it being a "Custom Winchester 1300", this is correct as Winchester is a subsidiary to FNH.
The ingame model has been modified with a chrome barrel and magazine tube, along with a non removable sidesaddle shell holder.
Ad blocker interference detected!
Wikia is a free-to-use site that makes money from advertising. We have a modified experience for viewers using ad blockers

Wikia is not accessible if you've made further modifications. Remove the custom ad blocker rule(s) and the page will load as expected.