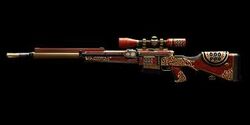 <tbody>

"

"A bolt action sniper rifle that has the improved operating mechanism of the MAS-36, the French army rifle that has been in service since 1936. Its time-tested and enhanced handling gives it great utility."

"

 

— Weapon Description 

</tbody>
The FR-F2 is one of the most popular sniper rifles. The Samurai variant is a basic FR-F2, with of course a different skin but also +1 ammo.
The FR-F2 is also fairly customizable, where it can be upgraded and modified further to your preferences. For decreased tag rate, it is recommended to buy the Long Range Barrel (even though that the range stats are misleading, the "real" range is over 90).
Modifications
Edit
Quick Scope (Single-phase zoom)
Sharpshooter Scope (Double-phase zoom, no automatic zoom after aimed fire)
Long Range Barrel (+2 Range, -1 Stability)
Sharpshooter Barrel (+2 Accuracy, -1 ROF)
Magazine Replacement (+5 Ammo, -2 Stability)
Recommended Builds
Edit
FR-F2 Samurai was nerfed and is tagged a lot. This build will reduce tag-rate and help with quickscoping. Rifle will gain 2 Range, 5 Ammo and quicker scope in exchange of 3 Stability points. If you want to keep stability high, then do not add Magazine Replacement.
Sharp Shooter Scope
Long Range Barrel
Magazine Replacement
The FR-F2 Samurai could be obtained via the Samurai Box in the Capsule Shop. Nowadays it pops up in Tiered Spenders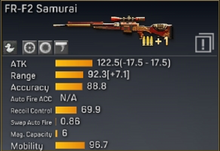 Ad blocker interference detected!
Wikia is a free-to-use site that makes money from advertising. We have a modified experience for viewers using ad blockers

Wikia is not accessible if you've made further modifications. Remove the custom ad blocker rule(s) and the page will load as expected.