This article is a stub. You can help Alliance of Valiant Arms Wiki by expanding it.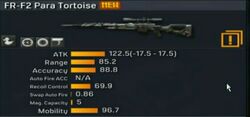 Obtainable through the gambling of Euro Boxes, available for 4000€(ingame) at the Capsule Shop.
Basic weapon
Edit
Modifications
Edit
Quick Scope (Single-phase zoom)
Sharpshooter Scope (Double-phase zoom, no automatic zoom after aimed fire)
Long Range Barrel (Range +7.1)
Sharpshooter Barrel (Accuracy +2.5)
Magazine Replacement (Ammo +5 ,Recoil Control -0.9)
One Hit Kill % 
Edit
Notes:
14 Armor equipped
10 shots per distance
Shot at the arms
Barrel: Long Range Barrel 
Notable Comparisons
Edit
During the Closed Beta(CBT) of En Masse Entertainment(EME), the name of the sniper rifle was "FR-F2 Para Tortoise". A mistake probably refering to the then already implemented SA58 Para Tortoise.
GIF-Gallery
Edit
Ad blocker interference detected!
Wikia is a free-to-use site that makes money from advertising. We have a modified experience for viewers using ad blockers

Wikia is not accessible if you've made further modifications. Remove the custom ad blocker rule(s) and the page will load as expected.