"

Standard army knife

"



 

— Weapon Description 
The Field Knife is a Melee Weapon that first appeared during AVA's closed beta. This weapon is on every account.
The Field Knife is the default melee weapon for all players on Alliance of Valiant Arms.
This weapon is considered a standard in many military branches worldwide.
N/A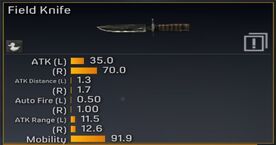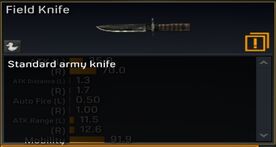 Ad blocker interference detected!
Wikia is a free-to-use site that makes money from advertising. We have a modified experience for viewers using ad blockers

Wikia is not accessible if you've made further modifications. Remove the custom ad blocker rule(s) and the page will load as expected.