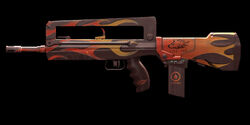 "

A custom variation of the standard FA-MAS with improved performance and reliability. It provides an incredible rate of fire and equally impressive firepower.

"



 

— Weapon Description 
The Firefox is a Rifleman weapon introduced during the 04-15-10 Content Update. It is a Capsule Shop variant of the FA-MAS F1.
The Firefox features a paint-job with the motif of a flame. On the back of the carrying handle, it features a happy face. Compared with the original FA-MAS, it has an increase in damage, accuracy and stability, along with an upgraded magazine size.
Some feel that, despite the Firefox's high DPS, the gun may not be worth the money you spend on capsules. Its variant, the FA-MAS MK.3, possesses better handling (and, dependent on the user, sometimes better performance), at the cost of a slightly lower damage statistic.
Modifications
Edit
None
The problem with the Firefox is that even with increased stability and power, the weapon spray and recoil can be an issue at long ranges. The best way to use this weapon is to Burst at Medium range. Close range in the case of other rifleman and sniper, you may be able to empty your mag into them, but only if you can keep your crosshair on them. It is not recommended with pointman, as they are the fastest moving and are specialists in close range.
Notable Comparisons
Edit
FA-MAS F1 - Despite different stats, Firefox has similar performance as FA-MAS F1.
FA-MAS MK.3 - Although lower stats MK.3 has higher real performance and is eassier to handle.
If you look at the back of the gun, where the top piece of the gun resides, you will see a smiley face with a blood splatter along the forehead (much like the Watchman movie insignia), smoking a cigarette with the words "Boom Headshot!" over the top of it.
This gun may be a reference to the popular web browser, Firefox
This gun may also be a reference to the Red fox which possesses the nickname of "Firefox".
This gun has a redeemable code in the june 2011 copy of PC Gamer
Although the weapon's stats say it deals 35 damage, the weapon feels as though it's damage output is on par with it's standard counterpart(FA-MAS F1). This will hopefully be addressed in a future patch.
This gun will be released in the Capsule Shop in AVA SEA on the 20 January 2014 for 3K Euro per Capsule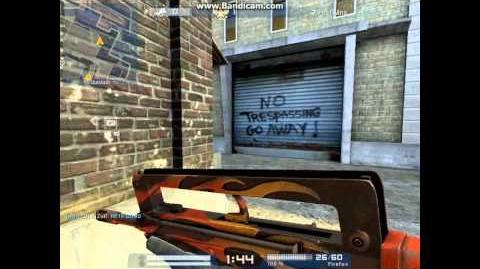 Ad blocker interference detected!
Wikia is a free-to-use site that makes money from advertising. We have a modified experience for viewers using ad blockers

Wikia is not accessible if you've made further modifications. Remove the custom ad blocker rule(s) and the page will load as expected.