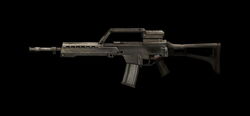 "

H&K gave up delayed blowback system and replaced it with gas-operated system for G36. It is accepted into service with the German Armed Forces. Most of its components are made of plastic making it durable and easy to produce.

"



 

— Weapon Description 
The G36 is an Assault Rifle originally released when the game was, back in 2009.
The G36 is extremely inaccurate, and unstable. While its power and stability are average for an assault rifle, it has somewhat decent accuracy and range. However, it has a slower rate of fire than some of the other rifles and it side to side recoil is very difficult to control when used in fully automatic fire rates. Even with the railed version, this gun is most often meant to be used as a tap or burst gun. Bursting should be no more then 3 rounds, as the recoil will cause a large number of shots to miss. The G36 has a custom intergrated scope which is not used by any other assault rifle, though it is lost once upgraded to the G36 Rail.
This is the same rifle which is featured in the tutorial level.
It is also much more expensive to maintain than a G36 rail, probably because it does not use modifications.
For 3000 euros players can modify the G36 to make it a G36 Rail. This takes the integrated scope off of the G36 allowing players to equip it with modified scopes (red dot, dot sight etc.) and other modifications. It also decreases repair costs, but increases recoil, and slightly increases spread.
Laser Sight (-0.7 Mobility)
Burst Barrel (+0.54 RoF, -1 Accuracy, -0.6 Auto Fire ACC)
Sharpshooter Barrel (+1.7 Accuracy, +1.5 Auto Fire ACC, -0.58 RoF)
Custom Trigger (+0.6 Stability, -0.30 RoF)
Silicon Grip (+0.3 Accuracy, +0.9 Auto Fire ACC)
Hard Grip (-2.9 Stability)
Shock Absorber (+2.7 Accuracy, +2.8 Auto Fire ACC)
The model ingame is the G36V(formerly G36E)which is designed for export,when it is upgraded it becomes a G36KV.
Ad blocker interference detected!
Wikia is a free-to-use site that makes money from advertising. We have a modified experience for viewers using ad blockers

Wikia is not accessible if you've made further modifications. Remove the custom ad blocker rule(s) and the page will load as expected.