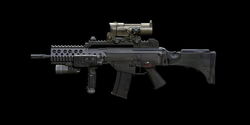 "

The appearance refers to the G36KA1 and its performance is based on the G36 Alligator, it also features a new magazine

"



 

— Weapon Description 
Overview
Edit
The G36KA2 Custom is a skinned variant of the G36 Alligator. In other versions of the game, such as the Korean and Taiwanese versions, this is simply a skin for the G36 Alligator. However, in the North American version, it shares the stats of the Alligator but is a completely separate gun with +2 Ammo per magazine.
It was only briefly available on the Aeria webmall, then later on was a possible reward from a Tiered Spender.
Modifications
Edit
None
Variants
Edit
Crouch whenever possible, this will elimate almost all of the gun's recoil
As with most rifles in the game, NEVER scope in
At longer ranges, shoot in 3-5 shot bursts
Notable Comparisons
Edit
XM8: +1 Range -10 Accuracy +3 Stability -5 Mobility -2 Ammo
G36KA1:-1 Damage -1 Accuracy -1 Stability -3 Rate of Fire -2 Ammo
G36 Alligator Same stats but with a 30 round magazine
There were only 5 sold to players on the Aeria webmall. They were found in a weapon box that cost 5,000 AP ($50)
Only other way to receive this gun was through a final tier on a tiered spender, or if you were a Gamesage
Considered one of, if not the, rarest permanent gun in the game
Ad blocker interference detected!
Wikia is a free-to-use site that makes money from advertising. We have a modified experience for viewers using ad blockers

Wikia is not accessible if you've made further modifications. Remove the custom ad blocker rule(s) and the page will load as expected.