"

An assault rifle model entirely coated with platinum, featuring an elaborate design patterned on a G36 Alligator base and increased magazine capacity with the introduction of new magazine tech.

"



 

— Weapon Description 
The G36 Platinum is a skinned variant of the G36 Alligator. It was originally released in the capsule shop for 5 Red Tickets/20 Blue Tickets per capsule. Statistically and performance-wise, it is identical to the Alligator.
See G36 Alligator
None
The design on the Platinum is the exact same as the design on the Caiman, except color of course.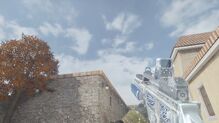 Ad blocker interference detected!
Wikia is a free-to-use site that makes money from advertising. We have a modified experience for viewers using ad blockers

Wikia is not accessible if you've made further modifications. Remove the custom ad blocker rule(s) and the page will load as expected.