"

Improved SMG model of Galil MAR, which appeals strong presence by chrome coating and carbon parts for durability improvement, surface processing of unique texture.

"



 

— Weapon description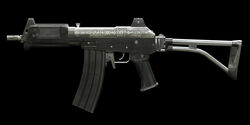 The Galil MAR Chromenon is an upgraded & skinned variant of the Galil MAR. Every single stat is upgraded, excluding Recoil Control which received a minor reduction from 90.8 to 88.4.
The biggest difference is the Damage of the weapon, which received an upgrade from 32.0 to 38.9. In turn, this increased the DPS from 400.0 to 486.3.
Modifications
Edit
None
The basic gameplay of the gun is the same as the original (see Galil MAR)
Take advantage of it's high damage and firerate by rushing the enemy and trying to catch them off guard
Notable Comparison
Edit
Ad blocker interference detected!
Wikia is a free-to-use site that makes money from advertising. We have a modified experience for viewers using ad blockers

Wikia is not accessible if you've made further modifications. Remove the custom ad blocker rule(s) and the page will load as expected.